Hey guy! Christmas is in 6 days and honestly, I can't wait! I love Christmas!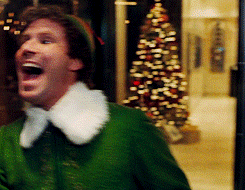 I've been working crazy hours at the booksstore and seeing everyone getting holiday gifts for their loved one makes me really happy. So, in honor of the Christmas season, I've decided to do the Holiday drinks Book Tag! This book tag was created by Cerys and Ariel in Browsing For Books. Let's start!
1. Hot Chocolate: Marshmallows and chocolate and whipped cream. Recommend a book that's sweet through and through.
Anna and the French kiss by Stephanie Perkins. This book is one of the cutest books I've ever read. It's everything a teenage girl dreams of ever happening to her (or maybe that was just me), anyway, if you're looking for a sweet contemporary romance novel this is the PERFECT book for you.
2. Peppermint Mocha: The flavor of peppermint is strong and distinct. Recommend a book with a lot of strong emotions.
Crooked kingdom by Leigh Bardugo. To say this book destroyed me in every possible way is an understatement. Picture me at 2 am crying in my room while everyone else was sleeping, yep, that was me. Although, to be honest that's just a regular day for any book lover. #sorrynotsorry
3. Apple Cider: It's so good it can't be good for you, but it's from apples—that means it's healthy, right? Recommend a book full of characters with questionable morals.
Six of crows by Leigh Bardugo. What better example than a book where every single character, in a way, is a criminal/outcast.
4. Eggnog: It's creamy and smooth, with a little spice, and some people even add alcohol to it. Recommend a book that's mostly fun, with just a hint of danger.
Heroine Complex by Sarah Kuhn. Not a lot of people know about this book, but it's actually a really good entertaining book for science fiction/superhero lovers. It also has Asian- American main characters! The novel follows Evie Tanaka who is best friend/personal assistant to Aveda Jupiter, San Francisco's local superheroine. Everything is great until Aveda gets hurt and Evie has to pose as Aveda for a night and accidentally reveals her own secret, she has badass superpowers too!
5. Gingerbread Latte: A drink with a veritable explosion of spices. Recommend a book with a lot of action.
Mistborn by Brandon Sanders. This book is action scene, after action scene, after suspenseful scene, it's a great book to keep you in your toes!
I hope y'all enjoyed this tag as much as I did. I tag:
@oddandbookish
@legenbooksdary
Thank you for reading!