"Top 5 Wednesday" is a weekly meme currently hosted on Goodreads by Sam of Thoughts on Tomes in which you list your top 5 for the week's chosen topic.
This week's topic is: Nostalgic Ships
Which is basically the first fictional couples you ever got butterflies over, or couples you used to be really into when you were younger. Lets start!
Rose and Dimitri from Vampire Academy. Guys this used to be, still is my ultimate ship. I read these books when I was 15 and boy did they hit me hard on the feels. I lived for every small moment Rose and Dimiti got together in the first few books. I love how much they complimented each and how no matter what they always fought for each other.
Adrian and Sydney from Bloodlines. Bloodlines is a spin off series from Vampire Academy that follows Sidney Sage an Alchemist that help keep the vampire world separate from the human world. Adrian and Sydney have such a fearless and strong relationship. I definitely loved watching it develop and grow over the series, especially how they went from strangers to lovers.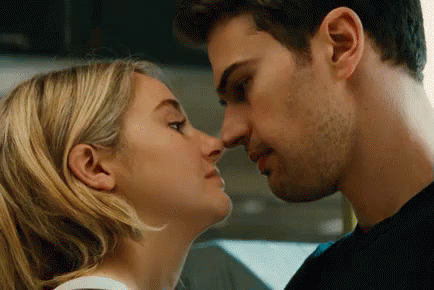 Trish and Tobias from Divergent. I read the first book when it was just released before it became a big hit and I LOVED Tris and Tobias. However, sadly, my love for them died after the second book, it just wasn't the same for me.
Percy and Anabeth from the Percy Jackson and the Olympians series. Excuse me, but I shipped these two since the first book when they were 12 years old and they were only friends. I loved how they were friends before anything and who it slowly progressed to something more amidst all their problems. Anabeth and Percy complement each other in a way that not many couples can, and I respect that.
Anna and Etienne from Anna and the French Kiss. I think this book was designed to fulfill every teenage girl fantasy, especially Etienne since he's British/French AND American. Anna was also super relatable, and I just LOVE these two together they are the most adorable couple ever.
Comment bellow who are your favorite nostalgic couples!
Thank you for reading!